ADDAC System Announces its Mini-MONSTER Eurorack Frame
Newest rendition of ADDAC's classic MONSTER frame design is 15U high by 85HP wide
Lisbon, Portugal, December 8, 2022 — ADDAC System has announced its latest Eurorack ​ frame, ADDAC901MM, or the Mini-MONSTER. Mini-MONSTER, which is available now and ships assembled, is the latest addition to the ADDAC family of MONSTER racks, measuring 18.5" (47cm) x 22.4" (57cm) x 18.1" (46cm). As the 'smallest' member of the ADDAC MONSTER rack family, Mini-MONSTER is a little powerhouse featuring 5 rows (15U) x 85HP of rack space.
Sharing a similar aesthetic design as its larger siblings, the Mini-MONSTER rack is a classic plug and play frame constructed in aluminum with sidings in 18mm poplar plywood with a Wenge venner. ​ It features a left-hand side AC socket, robust side handles for transporting and a total of 5 busboards (one per row) — each loaded with 19 connectors.
The Mini-MONSTER rack is able to handle Eurorack modules of just about any depth, with a maximum depth of 150mm on the third row. Power-wise, the rack is specified at 7000mA on +12V and 7000mA on -12V, and +5v is available on all busboards.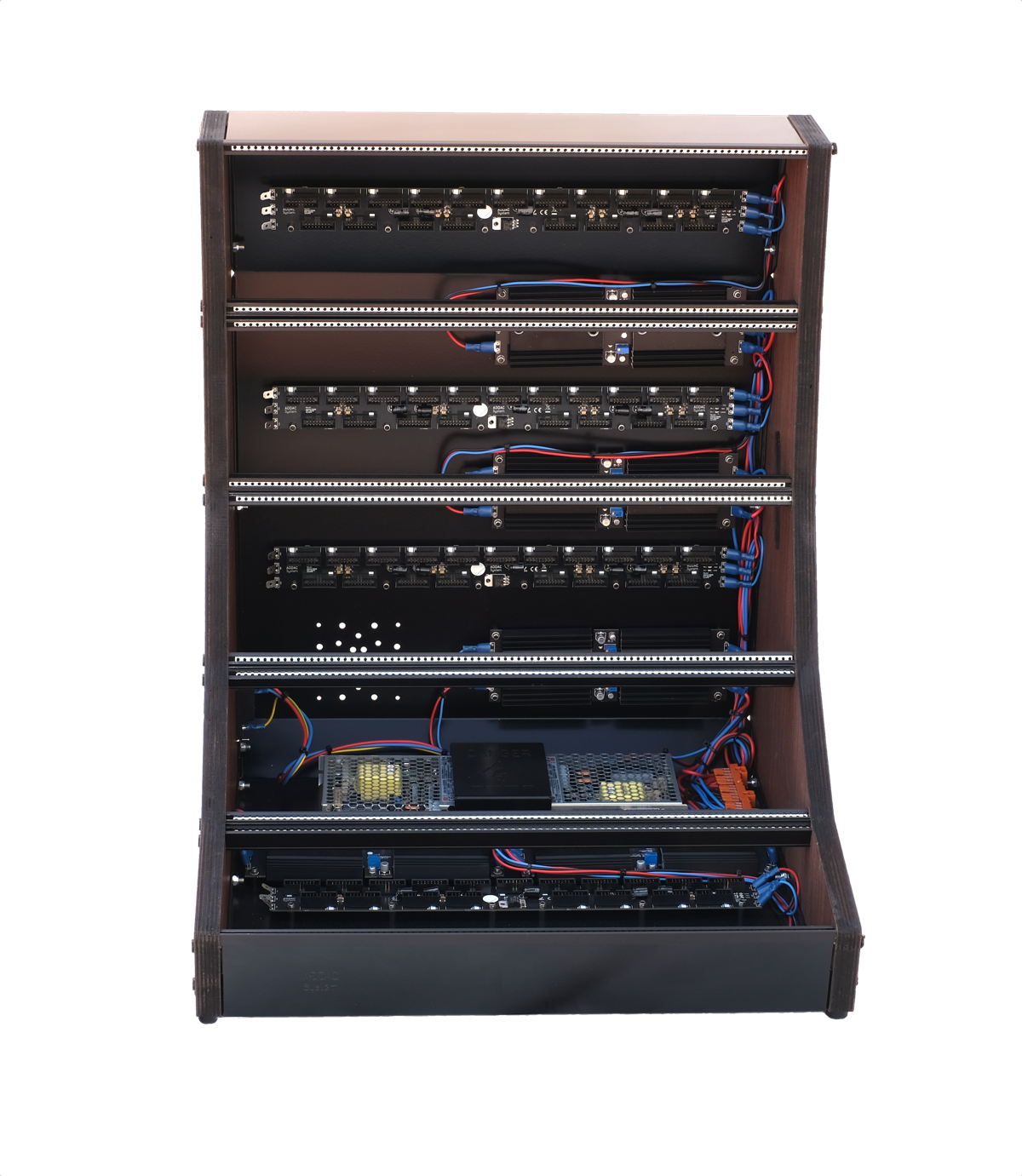 Specifications and features
15U (5 rows)

85HP wide

Left Side AC Socket

Side handles

5 busboards (one per row) each with 19 connectors.
Module maximum depths:
Top Row: 90mm

Fourth Row: 120mm

Third Row: 150mm

Second Row: 95mm

Bottom Row: 55mm
Power specifications
7000mA on +12V

7000mA on -12V

+5v available on all busboards

Draws from +12V, 500mA max per busboard
The ADDAC901MM 15U 85HP Mini-MONSTER frame is shipping now and priced at €950. ​ For more information, please visit the ADDAC System product page.
About ADDAC System
​ADDAC develops advanced instruments for sonic expression. The company started back in 2009 with an ambition to explore the potential crossover between analog synthesizers and computers. Because its first creations sparked a lot of attention, ADDAC decided to work hard and put them in customers' hands. Today our product line is focused on a new breed of hybrid synths, that make use of the best of both the digital and analog worlds. We've grown to be able to reach thousands of enthusiastic clients, friends and collaborators. Always looking into conceptualizing and developing the most exquisite instruments, we hope you're able to join and share this passion with us.

Jeff Touzeau Public Relations, Hummingbird Media, Inc.