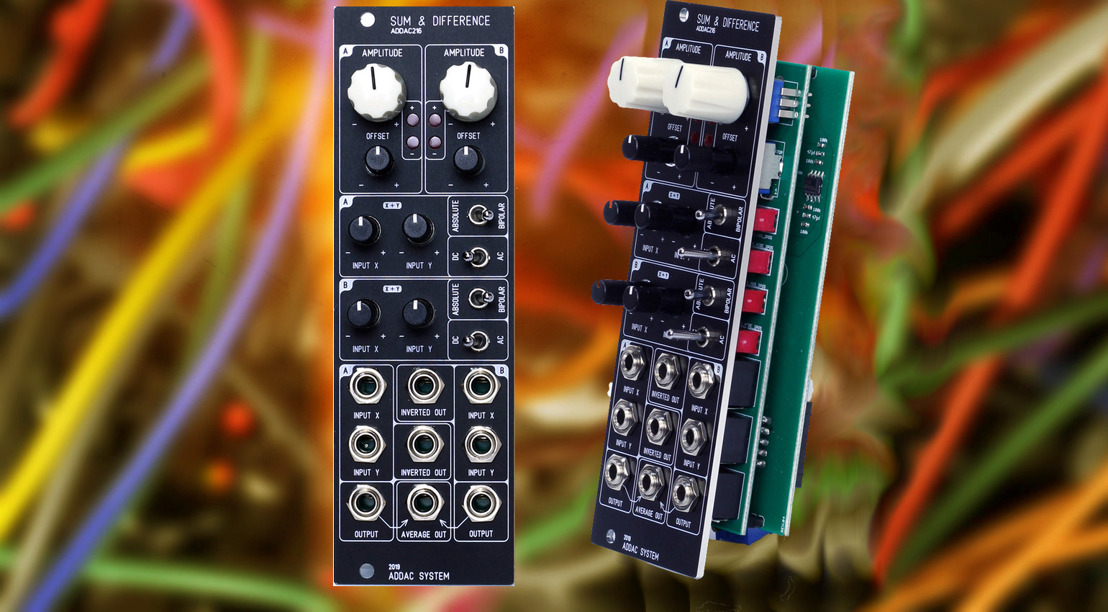 New 216 Sum & Difference Eurorack Module from ADDAC System has no equal
From Portugal with love: entirely new kind of mixer that also enables the subtraction of two signals
Lisbon, Portugal, December 9, 2019 — ADDAC System continues on its rogue path of innovation in the Eurorack space with the introduction of its new 216 Sum & Difference module, available now and priced at €125. Put simply, the 216 does what other mixers cannot do: instead of allowing just the summing of two input signals, it also enables the possibility of subtracting the two signals. From a creative perspective, this allows users to attain the difference of two CVs (control voltages) or to cancel the phase of two audio signals.

"We are excited to introduce our new 216 Sum & Difference module," said André Gonçalves, founder of ADDAC System. "One of our primary design criteria is to create modules that don't yet exist and that we wish we had. The 216 is another example of that, and our hope is that by introducing modules with unconventional circuit designs, we can help customers find undiscovered paths in their sonic journeys."
A peculiar signal flow meant to inspire
​The resulting signal from the 216 module, whether it be sum or subtraction, is then routed through a switchable (on/off) full rectification circuit labeled Absolute before the mixed signal then goes through another attenuverter labeled Amplitude which controls the resulting signal gain. Since the Amplitude control is an attenuverter, it gives users the possibility to invert the incoming signal. Finally, after the Amplitude control comes an AC/DC coupling switch followed by an bipolar Offset knob.
​
​In addition to the main output on the 216, there is also an inverted output for each of the A and B sections.
 These outputs are also summed, and sent to the Average Output. Using a single input, for instance either of the X or Y inputs, the module can also be used as a simple dual Attenuverter and Offset CV processor — with full rectification and AC coupling options.
​
​The 216 Sum & Difference module will also be available as a full DIY kit in the near future.
Features:
Two independent sections, each with:

​- Two inputs with gain attenuverters
​- 
Amplitude attenuverter and bipolar Offset
​- Absolute/Bipolar and AC/DC switches

​- Output and inverted output

​- Two LEDs for monitoring the Output polarities and gain
Average mix output of both sections
​

​About ADDAC System
​ADDAC System develops advanced instruments for sonic expression. The company began in 2009 with an ambition to explore the potential crossover between analog synthesizers and computers. Today, ADDAC System's product line is focused on a new breed of hybrid synths that utilize the best of both the digital and analog worlds. We've grown to be able to reach thousands of enthusiastic clients, friends and collaborators. ADDAC System's solutions — which are used in many musical genres — can be found in many personal studio throughout the world and routinely used by musicians in several planes of stardom.

Jeff Touzeau Public Relations, Hummingbird Media, Inc.